"We shall see much, but learn very little." – Jean Ognier

Hello everyone! After a much needed vacation, I'm excited to return with a brand new miniseries: our very own Tour de France. What kind of France exists outside the boundaries of Paris? What kind of France exists in the middle of the countryside? What does someone in Paris have in common with someone in the Pyrenées? How many kinds of French people are there? What makes someone truly "French" anyway? For the next six episodes, we'll be tracing the route of the original Tour de France, traveling through the "in between places" – the vast countryside which traditionally held most of the French population. Beginning in the tiny village of Montgeron, then passing through Lyon, Marseille, Toulouse, Bordeaux, Nantes and finally returning to Paris, we'll be eating, drinking and exploring our way through the nation. On y va!
Episode 33: "A Tour de France – Montgeron"
Podcast: Play in new window | Download
Subscribe: Apple Podcasts | Android | Google Podcasts | Stitcher | RSS
Pictures from 1903 Tour de France – Montgeron: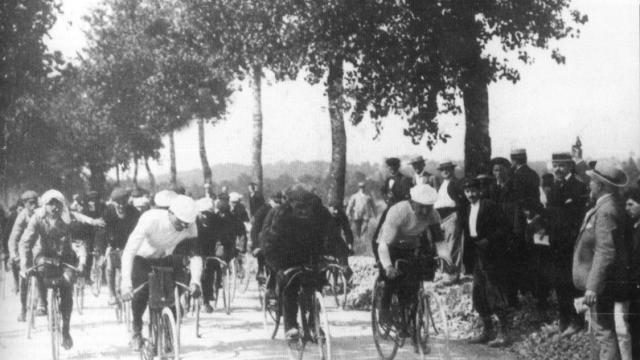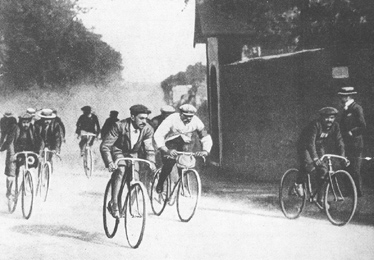 Sources:
The Discovery of France: A Historical Geography – Graham Robb, 2008.
Travels in Europe: For the Use of Travellers on the Continent, and Likewise in the Island of Sicily – Mariana Starke, 1839.
Travels Through The South of France And In The Interior of The Provinces of Provence and Languedoc – Ninian Pinkney
"The Tour de France", Géo Lefèvre, L'Auto June 27, 1903.
The Tour de France: A Cultural History – Christopher S. Thompson, 2008.
Peasants into Frenchmen: The Modernization of Rural France, 1870-1914 – Eugen Weber, 1976.
French Romantic Travel Writing: Chateaubriand to Nerval – C.W. Thompson, 2012.
Paris: The Biography of a City – Colin Jones, 2006.
The History of Modern France – Jonathan Fenby, 2016.
"How the Tour de France Diet Has Changed Over the Decades" – Vernon Felton, Outside Magazine, July 22, 2016.
Le Tour: A History of the Tour de France – Geoffrey Wheatcroft, 2003.
Further Reading:
I can't recommend Graham Robb's The Discovery of France: A Historical Geography more highly. I don't remember the last time I read a single volume history which exposed me to so much new information – possibly not since Lizzie Collingham's masterpiece The Taste of War: World War II and the Battle for Food.
Sign up for the brand new The Land of Desire newsletter!
You'll find content like:
High-quality journalism on French culture and history
French recipes, hand-chosen (and taste-tested!) by yours truly
Book recommendations for those who want to dive deeper
Interesting articles, links and news stories to connect my podcast subjects to the 21st century
I'll be sending out the second issue later this month, so sign up now.