"A public monument is not there just for lovers." – city official, Paris (2014)

Now that summer's around the corner, Paris is bracing itself for the annual influx of tourists. With 36 million tourists passing through Paris every year, tourism has a profound influence on the capital and the country at large. Tiny trends morph into tidal waves of change, and weighing the needs of tourists and residents becomes a tricky balancing act. This week, we'll kick off a series called "We'll Always Have Paris" focusing on the history of tourism in France. For our first episode, I'll take a closer look at one of the most inescapable trends to hit Paris in recent years: the ubiquitous love locks.
Episode 24: "We'll Always Have Paris: Love Locks"
Podcast: Play in new window | Download
Subscribe: Apple Podcasts | Android | Google Podcasts | Stitcher | RSS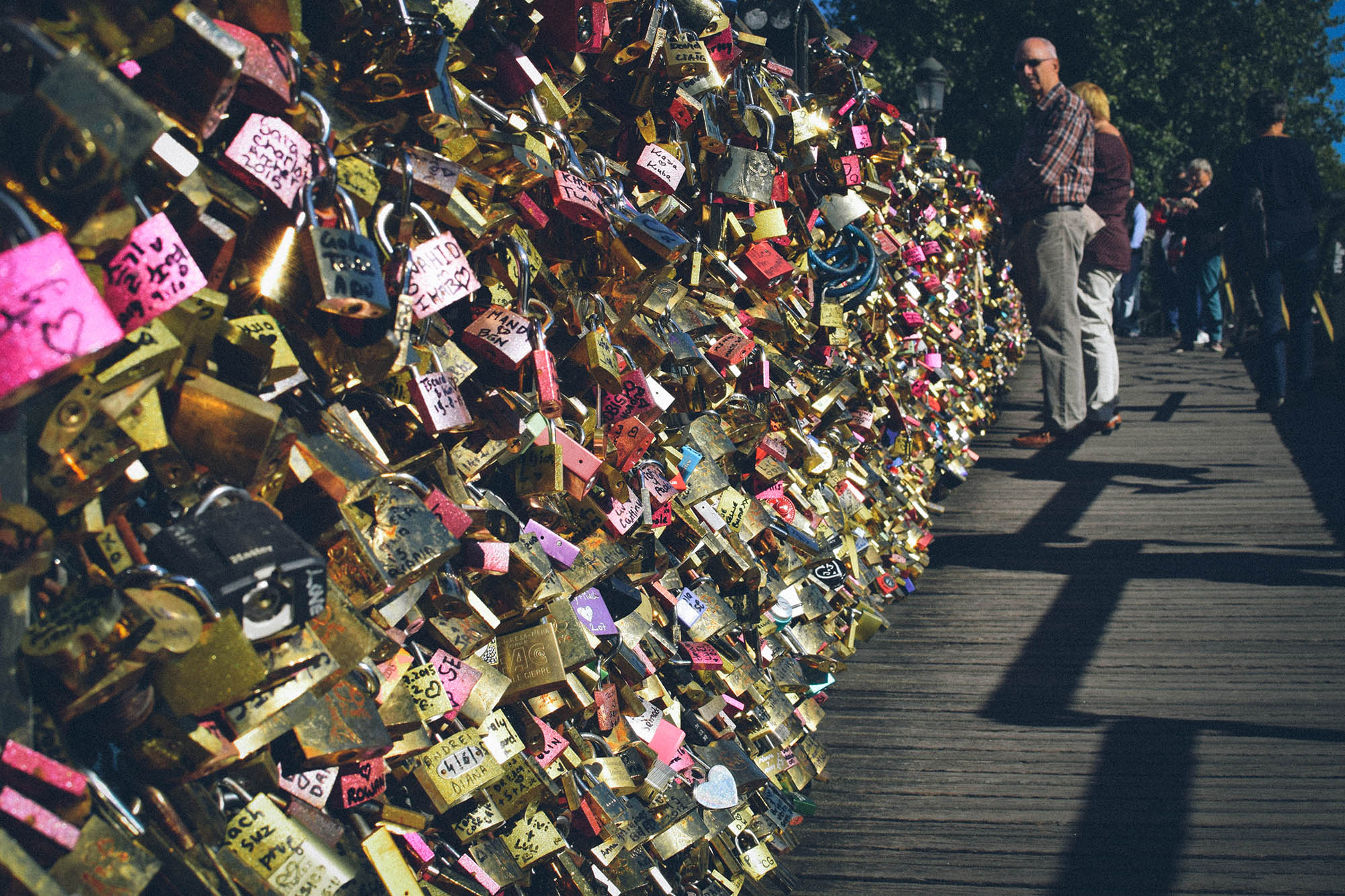 Interested in purchasing some of the love locks up for auction? The website is here, though it looks like the website for the cadenas d'amour is not yet ready.
Sources:
"In Rome, A New Ritual On An Old Bridge" (New York Times)
Italy's bridges weighed down by locks of love (The Guardian)
A Scourge in Paris, Love Locks Prevail In Other Cities (New York Times)
Adieu to the Love-Locks of Paris (Huffington Post)
This Is What Five Years' Worth of Paris' Famous 'Love Locks' Look Like (Buzzfeed) —> LOOK AT THIS :-O
Further Reading:
See the calligraffiti of the artist eL Seed  on the Pont des Arts bridge on Widewalls. I was able to see this installation in person, and it was so beautiful, all the more so because it was temporary.
See Daniel Hourdé's beautiful, kinetic installation on the Pont des Arts bridge on Artnet.
LET'S TALK PARIS! You can see my own recommendations here, but don't forget to talk about it on the show's Facebook page!