Dinner is served.
Welcome back to The Land of Desire, a French history podcast dedicated to exploring all the weird adventures, mysteries and surprising backstories behind French cultural icons. For the next two episodes, we're going to focus on war, food, and how much a country's food culture is the result of military conflict. If that sounds boring, how about this: today we're going to talk about that time Paris ate its own zoo animals.
"I ask you, then, what would be the charm of being besieged by 500,000 helmetted Prussians if foods did not change their nature, their taste and their value!" – Henri Chatillon, La Chasse illustrée, February 1871
Episode 2: We Ate A Zoo
Podcast: Play in new window | Download
Subscribe: Apple Podcasts | Android | Google Podcasts | Stitcher | RSS
Today's Specials: Zoo Animals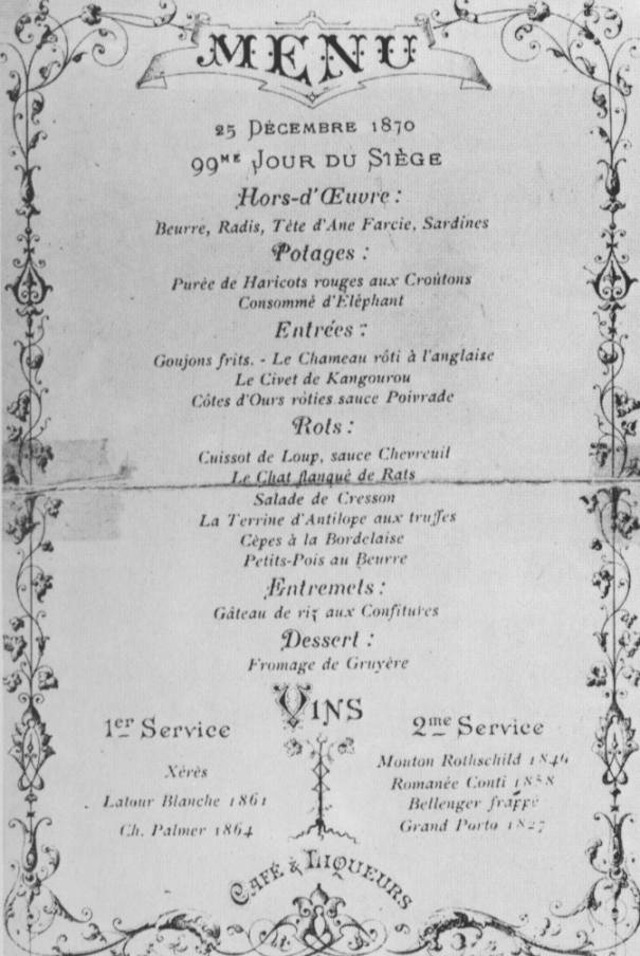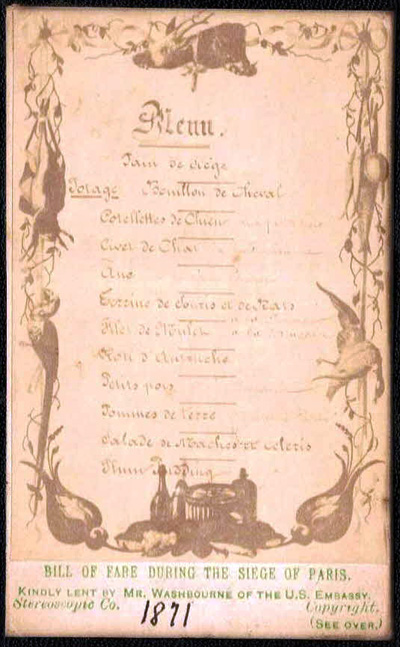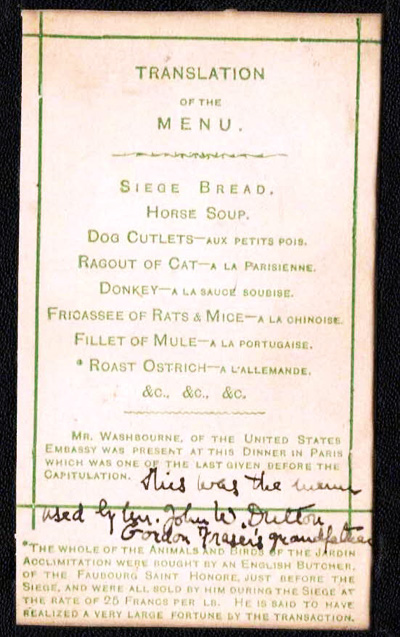 Further Reading:
"Food & The Siege of Paris"  (Rachel Hope Cleves)
The Judgment of Paris – The Revolutionary Decade That Gave the World Impressionism (Ross King)
If you'd like a peek into 19th century France, check out the incredible photographs of Auguste Bruno Braquehais (1823-75), a French photojournalist who took over 100 photographs of the Siege and the Commune.
Sources:
Short and long-term impacts of famines. The case of the siege of Paris, 1870-1871 (Denis Cogneau, Lionel Kesztenbaum. Paris School of Economics)
A Lunatic Asylum During The Siege of Paris (Brierre De Boismont and Forbes Winslow, The British Medical Journal, March 1871)
Remarks On The Prussian Siege Of Paris In Some Of Its Relations To Hygiene And Surgery (C. A. Gordon, The British Medical Journal, September 1871)
Colonial Food in Interwar Paris – The Taste of Empire (Lauren James)